Sound Doctrine
with Jeff Johnson
Hold On to Sound Doctrine - Episode 1
Tuesday, May 21, 2019
As any farmer will tell you weathervane on the top of barns are perfect for telling us which direction the wind is going. But when it comes to standing against the winds, they're useless. In a similar way Pastor Jeff Johnson shows how it is important for the Christian to be cautious not to be like a weather vane, being tossed around with every new doctrine, idea, or spiritual fad that pops up in our culture. So it was with the church in Thessalonica. As they embraced the truth of Jesus Christ, Paul promised that God would comfort and establish them in their convictions. We are reminded that God will do the same thing for us today as we stand firm in what we have been taught. With more in our study titled, "Hold On to Sound Doctrine," let's turn to 2 Thessalonians 2 for our study with Pastor Jeff Johnson.
Recent Broadcasts
Featured Offer from Sound Doctrine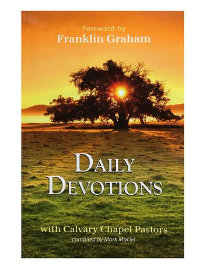 Daily Devotions
This special collections of daily devotions with your Calvary Chapel Pastors will edify you as you read each day of the year. God's Word in these devotions will inspire you. As these Pastors share their hearts and personal experiences of God's faithfulness.