Sound Doctrine
with Jeff Johnson
Hold On to Sound Doctrine - Episode 2
Wednesday, May 22, 2019
More than a memorable photo op at Buckingham Palace, the queens guard and their iconic red uniforms and black helmets are recognized for their stoic watch at their post. Their diligence to remain there symbolizes the Apostle Paul's exhortation to the believer today: Stand fast in what you were taught. As Pastor Jeff Johnson illustrates, it's not simply a noble standard, but a real life necessity for our spiritual health and maturity. So let's tune in for the message titled, "Hold On to Sound Doctrine," in 2 Thessalonians 2, with Pastor Jeff Johnson.
Recent Broadcasts
Featured Offer from Sound Doctrine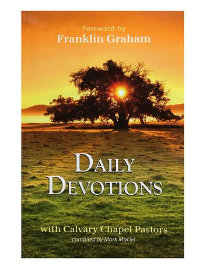 Daily Devotions
This special collections of daily devotions with your Calvary Chapel Pastors will edify you as you read each day of the year. God's Word in these devotions will inspire you. As these Pastors share their hearts and personal experiences of God's faithfulness.