Sound Doctrine
with Jeff Johnson
Hold On to Sound Doctrine - Episode 3
Thursday, May 23, 2019
The Bible says that our lives are living epistles, or letters, known and read by all people. As we witness and work for the Lord, others will see love and joy coming out of our lives as an advertisement for the grace of God working in us. Pastor Jeff Johnson helps us to see that this life is real and not impossible for those who are obeying and walking with the Lord. But it is actually the overflow of a life that is built upon, and maintained by those who "Hold On To Sound Doctrine". So let's listen in to final installment of our study in 2 Thessalonians 2 with Pastor Jeff Johnson.
Recent Broadcasts
Featured Offer from Sound Doctrine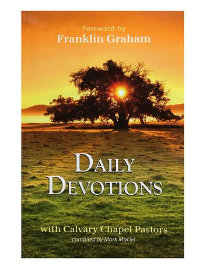 Daily Devotions
This special collections of daily devotions with your Calvary Chapel Pastors will edify you as you read each day of the year. God's Word in these devotions will inspire you. As these Pastors share their hearts and personal experiences of God's faithfulness.