Sound Doctrine
with Jeff Johnson
How to Witness Part 4a
Friday, May 22, 2020
Throughout the day we talk about the weather, how our day is going, our interests and maybe even current events like the latest on Covid 19.  But today on Sound Doctrine pastor Jeff Johnson will encourage us to talk about the greatest news of all. And if you're like a lot of believers you really struggle in this area of witnessing.  So this is much needed encouragement from Acts chapter seventeen today. 
Recent Broadcasts
Featured Offer from Sound Doctrine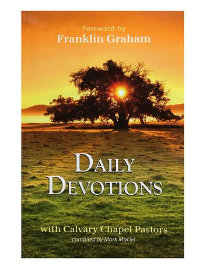 Daily Devotions
This special collections of daily devotions with your Calvary Chapel Pastors will edify you as you read each day of the year. God's Word in these devotions will inspire you. As these Pastors share their hearts and personal experiences of God's faithfulness.