Sound Doctrine
with Jeff Johnson
How to Witness Part 4b
Monday, May 25, 2020
We live in a godless society, and it seems to be getting worse as each year goes by doesn't it?  How can we as Christians be a witness in this world as we know it?  That's what we're uncovering through our present series in Acts seventeen on Sound Doctrine.  Pastor Jeff Johnson believes we need to be constantly and consistently giving out the Word of God, just as the apostle Paul did in verses 16 and 17.
Recent Broadcasts
Featured Offer from Sound Doctrine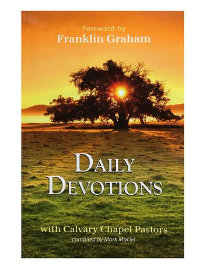 Daily Devotions
This special collections of daily devotions with your Calvary Chapel Pastors will edify you as you read each day of the year. God's Word in these devotions will inspire you. As these Pastors share their hearts and personal experiences of God's faithfulness.