Sound Doctrine
with Jeff Johnson
How to Witness Part 5c
Thursday, May 28, 2020
Maybe you've noticed, some of the hardest people to reach for Christ are those who are religious!   They're so locked into their religion or tradition, they don't see their need, and it's hard to witness to them.  We'll provide some much-needed help today on Sound Doctrine through a study of Acts seventeen.  
Recent Broadcasts
Featured Offer from Sound Doctrine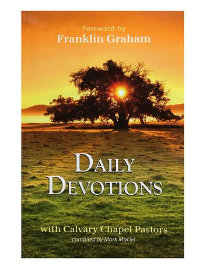 Daily Devotions
This special collections of daily devotions with your Calvary Chapel Pastors will edify you as you read each day of the year. God's Word in these devotions will inspire you. As these Pastors share their hearts and personal experiences of God's faithfulness.