Sound Doctrine
with Jeff Johnson
Miracles in His Name (Part 1) Episode 1
Tuesday, December 3, 2019
Have you ever wondered what the ministry of Jesus would look like if He were on planet earth today? What would He say and do? What kind of miracles would He work? As we begin a new study in the book of Acts, Pastor Jeff says that because Jesus has baptized us in the Holy Spirit, we should be doing the things that Jesus would be doing if He were on planet earth physically. As we shift our focus back to Peter, we answer the question, "How does a man or woman of God live and serve in our culture?" With our study titled, "Miracles in His Name," let's join Pastor Jeff in Acts 9 for our time in Sound Doctrine.
Recent Broadcasts
Featured Offer from Sound Doctrine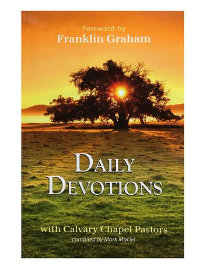 Daily Devotions
This special collections of daily devotions with your Calvary Chapel Pastors will edify you as you read each day of the year. God's Word in these devotions will inspire you. As these Pastors share their hearts and personal experiences of God's faithfulness.