Sound Doctrine
with Jeff Johnson
Miracles in His Name (Part 2) Episode 2
Monday, December 9, 2019
The most important ability that God is looking for from you is your availability. When an apostle or spiritual leader passed away the church would pray and move on. However, when a sister who was used in a powerful and practical way, the church called for Peter. And through his availability, Peter came to the aid of a church that needed help. Pastor Jeff shows the importance of those who were used like Dorcas, and the need for those who are obedient as Peter was. With more on our study titled, "Miracles in His Name (Part 2)," let's join Pastor Jeff in Acts 9 for our time in Sound Doctrine.
Recent Broadcasts
Featured Offer from Sound Doctrine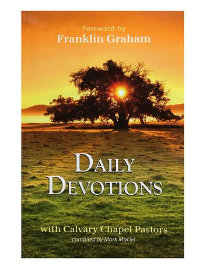 Daily Devotions
This special collections of daily devotions with your Calvary Chapel Pastors will edify you as you read each day of the year. God's Word in these devotions will inspire you. As these Pastors share their hearts and personal experiences of God's faithfulness.