Sound Doctrine
with Jeff Johnson
Pass It On - Episode 1
Friday, May 24, 2019
The Bible says of itself that God's power is built in to the truth of Scripture. It creates, controls, convicts, and accomplishes heaven's purposes. The Word that is shared instead of the act of sharing itself is what accomplishes God's intentions. So when we share, we don't have to stress about our delivery as we do making sure we deliver the Word of God. With that theme Pastor Jeff Johnson helps us to see the need for prayer and God's Word going together is what makes the Word spread rapidly. And as we combine those two traits together, we will watch God set people free with the truth. With our study titled, "Pass It On," let's join Pastor Jeff in 2 Thessalonians 3 for our time in Sound Doctrine.
Recent Broadcasts
Featured Offer from Sound Doctrine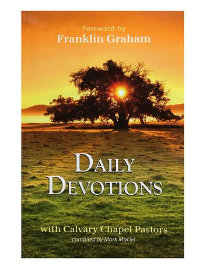 Daily Devotions
This special collections of daily devotions with your Calvary Chapel Pastors will edify you as you read each day of the year. God's Word in these devotions will inspire you. As these Pastors share their hearts and personal experiences of God's faithfulness.