Sound Doctrine
with Jeff Johnson
Praying in the Spirit
Friday, January 11, 2019
God tells us through His word to call upon Him. And when we do He will answer and show us great and mighty things which we didn't know. And G.K. Chesterton said that Christianity hasn't been tried and found wanting. It's been found difficult and left untried, meaning that one of the reasons we don't hear from God is that we don't want to meet the requirements to be able to hear. However, as we pray and surrender our lives to the Lord, He is more than willing to cause us to hear His voice. With more on that, let's join Pastor Jeff in Ephesians 6 for our study titled, "Praying in the Spirit" in Sound Doctrine.
Recent Broadcasts
Featured Offer from Sound Doctrine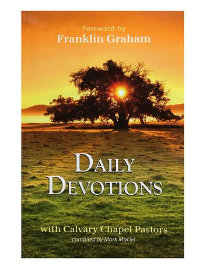 Daily Devotions
This special collections of daily devotions with your Calvary Chapel Pastors will edify you as you read each day of the year. God's Word in these devotions will inspire you. As these Pastors share their hearts and personal experiences of God's faithfulness.