Sound Doctrine
with Jeff Johnson
Resisting Change (Part 2) Episode 1
Thursday, October 10, 2019
The Bible says that the letter kills but the Spirit gives life. And when the religious leaders of the book of Acts who followed the letter of the law came into contact with the church, that was birthed by the Holy Spirit, there was conflict. Today Pastor Jeff shows how Stephen was giving the religious leaders a history lesson of Abraham receiving God's promise by faith and not the law, and how we need to continue to walk by faith in Jesus Christ and not our own works. With more on our study titled, "Resisting Change Part 3," let's join Pastor Jeff in Acts 7. 
Recent Broadcasts
Featured Offer from Sound Doctrine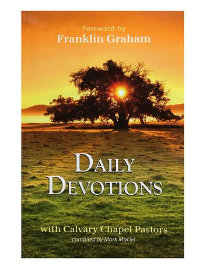 Daily Devotions
This special collections of daily devotions with your Calvary Chapel Pastors will edify you as you read each day of the year. God's Word in these devotions will inspire you. As these Pastors share their hearts and personal experiences of God's faithfulness.