Sound Doctrine
with Jeff Johnson
Resisting Change (Part 2) Episode 2
Friday, October 11, 2019
What was true of Abraham is true of the Christian today. Because Abraham believed God's promise, God accounted his faith for righteousness. It wasn't Abraham's works or religiosity, but faith. The same is true for each and every Christian as well. As we as justified by our faith in Christ Jesus, God accounts righteousness to us just as He did Abraham. Pastor Jeff shows that while the Jewish leaders accepted Abraham as their father, they fought the shift that walking by faith presented with God. With more, let's open to Acts 7 for our study titled, "Resisting Change," for our time in Sound Doctrine.
Recent Broadcasts
Featured Offer from Sound Doctrine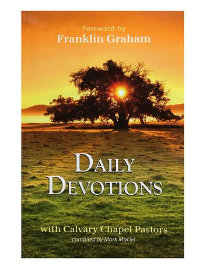 Daily Devotions
This special collections of daily devotions with your Calvary Chapel Pastors will edify you as you read each day of the year. God's Word in these devotions will inspire you. As these Pastors share their hearts and personal experiences of God's faithfulness.