Sound Doctrine
with Jeff Johnson
Strength for Today - Episode 2
Friday, May 17, 2019
If you were to take a quick inventory of your life, you might be tempted to discount what you have. However, when you look at your life through the lens of Scripture, we discover that we have much to be thankful for. As we delve further into 2 Thessalonians Pastor Jeff is uncovering the layers of God's work in our lives from which we can draw strength. As we see how Paul gave thanks for the Thessalonians he highlights three important traits that we too can claim in our lives. With more on our study titled, "Strength for Today," here is Pastor Jeff in 2 Thess 3 with our encouragement in Sound Doctrine.
Recent Broadcasts
Featured Offer from Sound Doctrine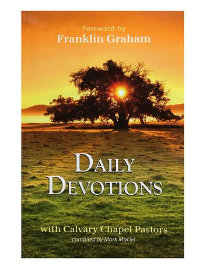 Daily Devotions
This special collections of daily devotions with your Calvary Chapel Pastors will edify you as you read each day of the year. God's Word in these devotions will inspire you. As these Pastors share their hearts and personal experiences of God's faithfulness.