Sound Doctrine
with Jeff Johnson
The First Persecution - Episode 1
Wednesday, August 14, 2019
 Religion versus a relationship with Jesus Christ have always stood in juxtaposition. Being religious doesn't offer salvation through Jesus Christ. It is the epitome of self-effort in the guise of holiness. As Peter and John addressed the crowd in Acts, our study reveals 4 different groups of people and their reaction to the Gospel and a relationship with Jesus Christ. Today Pastor Jeff shows us how the religious response is always at enmity, hostile towards the Gospel. With more on our study titled, "The First Persecution," let's join Pastor Jeff in Acts 4 for our time in Sound Doctrine.
Recent Broadcasts
Featured Offer from Sound Doctrine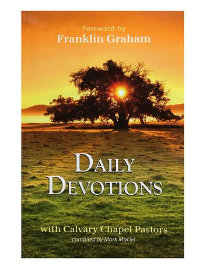 Daily Devotions
This special collections of daily devotions with your Calvary Chapel Pastors will edify you as you read each day of the year. God's Word in these devotions will inspire you. As these Pastors share their hearts and personal experiences of God's faithfulness.