Sound Doctrine
with Jeff Johnson
The Power of Prayer Part 5b
Tuesday, January 28, 2020
Pastor Jeff Johnson is in the middle of a study in Acts, and as we return to chapter twelve we're going to see what happens to those that oppose God's work.  God's retribution may not happen overnight, or go the way we think it should, but He always does what's right.
Recent Broadcasts
Featured Offer from Sound Doctrine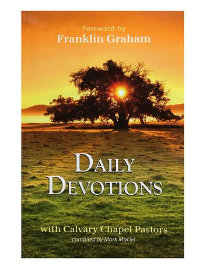 Daily Devotions
This special collections of daily devotions with your Calvary Chapel Pastors will edify you as you read each day of the year. God's Word in these devotions will inspire you. As these Pastors share their hearts and personal experiences of God's faithfulness.