Sound Doctrine
with Jeff Johnson
The Word + Spirit = Revival Part 1b
Friday, February 21, 2020
We've read of some amazing revivals in the past from the Great Awakening, to the Welsh Revival.  And some of us can remember revivals taking place in our lifetime too, like what happened in the Jesus Movement.  But can it happen again?  It certainly can, and Acts thirteen points the way.  That's where we're headed today on Sound Doctrine.  
Recent Broadcasts
Featured Offer from Sound Doctrine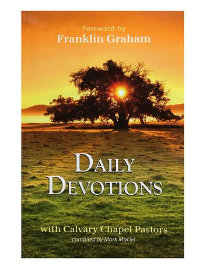 Daily Devotions
This special collections of daily devotions with your Calvary Chapel Pastors will edify you as you read each day of the year. God's Word in these devotions will inspire you. As these Pastors share their hearts and personal experiences of God's faithfulness.