Sound Doctrine
with Jeff Johnson
To Be Encouraged by God Part 1b
Friday, June 5, 2020
When you have a Virus for which there is no known cure, or your business is going under it's about that time we can become discouraged and afraid.  And God has an answer!  We find it in Acts eighteen where we read about a time in the apostle Paul's life when he was fearful and discouraged.  And maybe that's where you're at today?  Receive this great word of encouragement from God, as we join pastor Jeff on Sound Doctrine.
Recent Broadcasts
Featured Offer from Sound Doctrine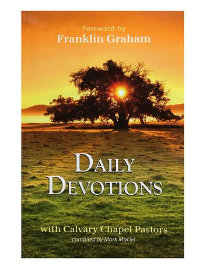 Daily Devotions
This special collections of daily devotions with your Calvary Chapel Pastors will edify you as you read each day of the year. God's Word in these devotions will inspire you. As these Pastors share their hearts and personal experiences of God's faithfulness.