Sound Doctrine
with Jeff Johnson
What About Sex - Episode 3
Friday, March 22, 2019
On today's edition of Sound Doctrine Pastor Jeff continues to show us three areas of our sexual lives that God wants to bless: their holiness, harmony, and honesty. As we learn that God's ways are best for us, His Word will give us the direction to discover joy will in pursuing Him in an area that has taken many people down. Pastor Jeff tells us that the Lord has called us to holiness from the bondage that prevails in this world. And we need to guard our hearts and our kids' hearts from a world that creates any kind of sexual desire on demand. With our study titled, "What About Sex," let's join Pastor Jeff in 1 Thessalonians 4 for our time in Sound Doctrine.
Recent Broadcasts
Featured Offer from Sound Doctrine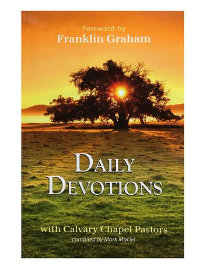 Daily Devotions
This special collections of daily devotions with your Calvary Chapel Pastors will edify you as you read each day of the year. God's Word in these devotions will inspire you. As these Pastors share their hearts and personal experiences of God's faithfulness.