Sound Doctrine
with Jeff Johnson
What Does Effective Outreach Look Like? Part 1
Wednesday, February 26, 2020
Whether you launch out on a short-term mission's trip to Mexico, or host a community evangelistic outreach at your church I'm sure you want it to be effective!  Today on Sound Doctrine we look back at an effective outreach in Acts chapter fourteen.  Pastor Jeff Johnson believes, if we follow the model laid out for us here, it'll serve to help us arrive at effectiveness in ministry.
Recent Broadcasts
Featured Offer from Sound Doctrine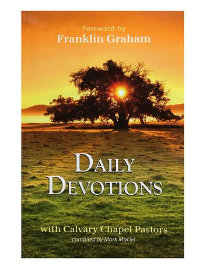 Daily Devotions
This special collections of daily devotions with your Calvary Chapel Pastors will edify you as you read each day of the year. God's Word in these devotions will inspire you. As these Pastors share their hearts and personal experiences of God's faithfulness.