Telling the Truth for Women
with Jill Briscoe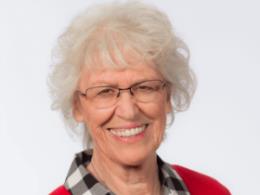 Eve - How to Find Your Identity
Monday, August 3, 2020
Women throughout all of history have been trying to find their identities—through marriage, children, a career. But we can find our true identity and fulfillment only in our relationship with God. Eve had a unique opportunity to be with God in the Garden of Eden, and God revealed His intended work for her, what He designed her to do. But Eve's identity was challenged in the Fall when Satan deceived Eve into trying to find her identity outside of the God in whose image she was made. We, too, were created in God's image and were designed for the work He has for us.  In this message, Jill walks us through Eve's story and teaches us how it is also our story—how our own identities may be obscured in the Fall but are renewed in Christ's redemptive work.
Recent Broadcasts
Featured Offer from Telling the Truth for Women
The answer to every hurt and struggle
Our world is full of brokenness that only Jesus can mend. And in these 80 truth-filled devotionals, Pete Briscoe leads you to God's Word daily and shows you how Jesus can bring true healing to the uncertainty and unrest in the world, as well as to your own temptations and struggles.