Telling the Truth
with Stuart, Jill & Pete Briscoe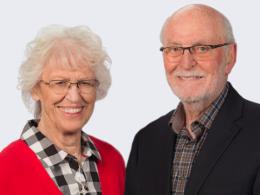 A Dream for the Church
Friday, February 26, 2021
There's a lot of debate about what the church is supposed to focus on. Some say it should be primarily concerned with bringing people to Christ, while others believe the focus should be on maturing existing believers. So, how do we know if we're "doing church" right? Can we be certain that we're making an impact in ways that matter most? In this message, Pete Briscoe takes you to 1 John to outline God's dream for the church. You'll discover a lesson that goes beyond the debate of men and becomes an entirely new and fulfilling way of life!
Recent Broadcasts
Featured Offer from Telling the Truth
Experience true rest in Jesus!
It seems more people than ever are feeling exhausted, depleted, and teetering on the edge of burnout. But God invites you to experience something so much better—a life where you draw your strength, energy, and joy from resting in Him. So slow down and say "yes" to God's gracious invitation, as Jill and Pete Briscoe lead you to the comfort of God's truth in their 6-message teaching series, You Need Rest.