Telling the Truth
with Stuart and Jill Briscoe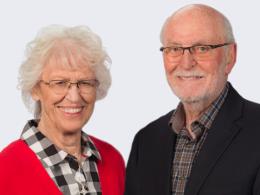 All You Need Is Love, Part 2
Monday, March 27, 2023
Stuart Briscoe Love is the greatest of all virtues. Twice in the first letter of John we have these three words: God is love. Now God is not faith. God is not hope. Those are attributes of God, qualities that God may be the source of in our own life. But He actually is love. Love is His nature, and it defines His very being. Therefore, everything else that is true about God is permeated by love.
Recent Broadcasts
Featured Offer from Telling the Truth
Hope for the Disheartened
Everyone experiences disappointments in life. And when things don't go the way we expect or desire—tragically or in smaller ways—discouragement can become entrenched. In Hope for the Disheartened, Stuart and Jill Briscoe's new, 5-message compilation series, you'll discover why our hope must be tied to trust in God and reliant on His strength and timing. The Hope for the Disheartened series comes as our thanks for your faithful partnership to help others also find encouragement in Christ. And if you're able to give a special gift this month, we'll say thanks with one of Jill's best-loved books of poetry, Barefoot in My Heart.