The Implanted Word
with Bill Gehm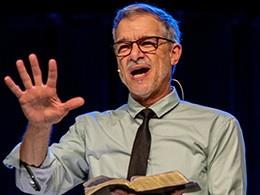 Discouraged Hearts & Jesus Part 1
Friday, April 23, 2021
Jesus' resurrection caught everyone by surprise, despite all of Jesus' teaching regarding His death. The disciples didn't really get it until they experienced it first-hand. Yet Jesus was patient with them. Pastor Bill will remind you in the message today that the Lord will meet you where you're at as well. He sees the struggle you're facing, Not only does he see your struggle but he can empathize with you. Being fully human and fully God, He gets you. He's there waiting for you to call on Him.
Recent Broadcasts
Featured Offer from The Implanted Word

Watch and Listen to Our Services Live!
Pastor Bill is the Senior Pastor of Grace Church in Amarillo, Texas. Grace streams every worship service live. In addition the service is aired live on Radio by Grace, the flagship radio network of The Implanted Word.