The Implanted Word
with Bill Gehm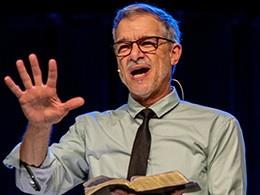 Discouraged Hearts & Jesus Part 2
Monday, April 26, 2021
There are conflicting messages out there on the news, on social media, and within our communities. You'll find a convincing argument for just about anything you can think of on google. It's hard to know what's true or false anymore! Pastor Bill will remind you in the message today that you can find the truth within the scriptures. The Bible is filled with the answers to your questions. All you have to do is seek Him as you read and learn from the word of God.
Recent Broadcasts
Featured Offer from The Implanted Word

Watch and Listen to Our Services Live!
Pastor Bill is the Senior Pastor of Grace Church in Amarillo, Texas. Grace streams every worship service live. In addition the service is aired live on Radio by Grace, the flagship radio network of The Implanted Word.