The Implanted Word
with Bill Gehm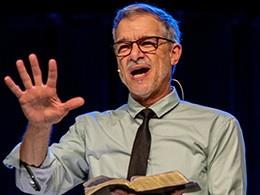 Jesus & The Little Children Part 2
Tuesday, February 23, 2021
When you walk in Gods Will for your life and faithfully hold onto the hope that He has planted into your heart you can live fearlessly. Today Pastor Bill reminds you that Gods Will is perfect and that as such if you can stay in it you can be a great light for His Kingdom. Seek out Gods purpose for your life. Dedicate yourself to His Word and developing a relationship with Jesus. Be inspired by His ways and try to live your life as He did. As a servant. Do these things and you can be certain that your life was lived well.
Recent Broadcasts
Featured Offer from The Implanted Word

Watch and Listen to Our Services Live!
Pastor Bill is the Senior Pastor of Grace Church in Amarillo, Texas. Grace streams every worship service live. In addition the service is aired live on Radio by Grace, the flagship radio network of The Implanted Word.