The Implanted Word
with Bill Gehm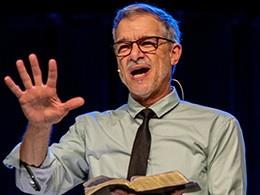 John Wayne Christianity? Part 3
Thursday, April 8, 2021
Today, Pastor Bill teaches over the scripture regarding Jesus' betrayal. Judas brought a crowd with him in the middle of the night and Jesus went willingly. He knew His time to save the world had come. However, some of His followers weren't so keen to let their Savior go quietly. Peter, in particular, wanted to go down fighting. One minute he's unsheathing his sword, and a few hours later, he'd deny Jesus three times. Jesus' care and love for His followers is evident in his reaction to Peter's denial.
Recent Broadcasts
Featured Offer from The Implanted Word

Watch and Listen to Our Services Live!
Pastor Bill is the Senior Pastor of Grace Church in Amarillo, Texas. Grace streams every worship service live. In addition the service is aired live on Radio by Grace, the flagship radio network of The Implanted Word.