The Implanted Word
with Bill Gehm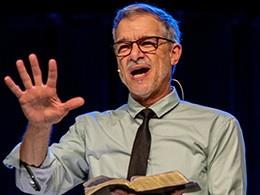 Remember the Inside Information Part 2
Thursday, April 22, 2021
In the message today, Pastor Bill will point out how the pandemic has been a wake-up call for many people. When the world as we know it comes to a halt, it certainly makes you think about what truly matters in life, doesn't it? Pastor Bill will encourage you today to cling to Jesus during these days that could very well be the end times. Your house, your job, the material possessions that you hold so close aren't going to last. Only Jesus is eternal.
Recent Broadcasts
Featured Offer from The Implanted Word

Watch and Listen to Our Services Live!
Pastor Bill is the Senior Pastor of Grace Church in Amarillo, Texas. Grace streams every worship service live. In addition the service is aired live on Radio by Grace, the flagship radio network of The Implanted Word.