The Implanted Word
with Bill Gehm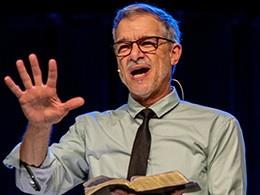 The Great Exchange Part 1
Friday, April 9, 2021
It's sad the way the world can put the Church to shame at times. As Pastor Bill will point out in today's message, if Herod and Pilate, wicked men who held each other in contempt previously, could stand united in their hatred, why can't we stand together in the love of Christ? This love is so much more powerful than the hatred and evil that unites those that oppose Christ. If you find yourself allowing small disagreements to come between you and your fellow believers, your focus is in the wrong place.
Recent Broadcasts
Featured Offer from The Implanted Word

Watch and Listen to Our Services Live!
Pastor Bill is the Senior Pastor of Grace Church in Amarillo, Texas. Grace streams every worship service live. In addition the service is aired live on Radio by Grace, the flagship radio network of The Implanted Word.