The Implanted Word
with Bill Gehm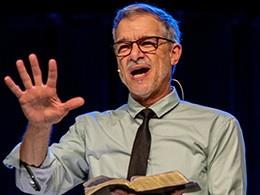 The Great Exchange Part 2
Monday, April 12, 2021
Jesus underwent pain and anguish that we simply can't fathom. Even before the nails pierced His hands and feet and He was raised on that cross, as He knelt in the garden, praying for the cup to pass if possible, He had our sin laid on Him and His Father turned away. That means your sin and mine, as well as that of every human who's lived and will live. As Pastor Bill will remind us in today's message, Jesus did that for you. He exchanged Himself so that you could be free and be with Him eternally.
Recent Broadcasts
Featured Offer from The Implanted Word

Watch and Listen to Our Services Live!
Pastor Bill is the Senior Pastor of Grace Church in Amarillo, Texas. Grace streams every worship service live. In addition the service is aired live on Radio by Grace, the flagship radio network of The Implanted Word.