The Official Adventures in Odyssey Podcast
with Focus on the Family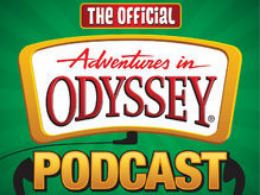 July 17, 2019: Go inside the mind of sound designer Jonathan Crowe to uncover secrets of "Take Every Thought Captive"
Wednesday, July 17, 2019
There's never been an Adventures in Odyssey episode quite like "Take Every Thought Captive," where mean girl Valerie Swanson visits a strange city inside her own mind. Sound designer Jonathan Crowe talks about the creation of this unusual adventure.
Recent Broadcasts
Featured Offer from The Official Adventures in Odyssey Podcast
Adventures in Odyssey: #67 More Than Meets the Eye
Album 67, More Than Meets the Eye, explores six stories on trust, sacrifice and forgiveness. Mystery and intrigue abound as Emily and Matthew are trapped inside an unfinished escape room in the basement of Whit's End. Meanwhile, the Odyssey High School Football team heads toward the state championship and deals with unexpected challenges.