The Official Adventures in Odyssey Podcast
with Focus on the Family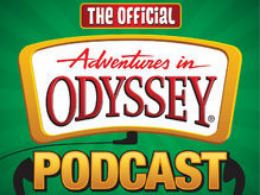 October 9, 2019: How many people have had an Odyssey written about them - and got to be in the studio to meet the person playing them? Find out.
Wednesday, October 9, 2019
"Rightly Dividing" was based on the true life story of Sarah Keimig. Born blind, she's gone through a variety of eye procedures in her lifetime. Find out why her story inspired an adventure and what it was like being in the studio while her story was recorded.
Recent Broadcasts
Featured Offer from The Official Adventures in Odyssey Podcast
Adventures in Odyssey: #67 More Than Meets the Eye
Album 67, More Than Meets the Eye, explores six stories on trust, sacrifice and forgiveness. Mystery and intrigue abound as Emily and Matthew are trapped inside an unfinished escape room in the basement of Whit's End. Meanwhile, the Odyssey High School Football team heads toward the state championship and deals with unexpected challenges.