Through The Hymnbook
with Reverend Bert Jones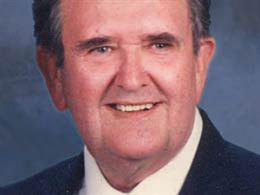 Hymns to Help Overcome Fear
Sunday, February 10, 2019
We all have fear concerning the anxieties of life. You will be encouraged by songs that will help such as "I Will Pilot Thee."
Recent Broadcasts
Featured Offer from Through The Hymnbook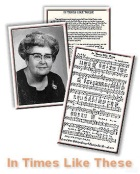 In Times Like These (Free Gift)
The well-known and loved song, In Times Like These, was written by Ruth Caye Jones, co-founder of the ministry A Visit with the Joneses.  The inspiration came during World War II, but the words continue to speak to every generation.  We'd like to send you a copy of this song, as well as a photo of Mother Jones, as she's known, and the story of how she wrote In Times Like These. 

This set is a free offer, which can be requested by e-mail or by writing the Joneses at:

[email protected]

A Visit with the Joneses 
P.O. Box 575
Erie, PA 16512.