Turning Point
with Dr. David Jeremiah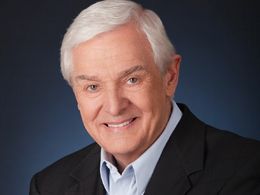 Is He From History or From Eternity? Part 2
Friday, December 1, 2023
It's not always easy living for Jesus, but you can take comfort in knowing that Jesus is also living for you! Today on Turning Point, Dr. David Jeremiah examines all that Christ is doing in Heaven on your behalf.
Recent Broadcasts
Featured Offer from Turning Point

Walking with Jesus - 2024 Devotional
Where is your heart today? Are you eagerly anticipating the dawn of a new year? Or do the days ahead seem ominous? Is there faith or fear? Joy or dread? Maybe it's "all of the above" for you. This is why it is extremely important for you to walk every mile of your day with Jesus by your side. As you do, you are comforted and strengthened. More aware of His goodness. Cares are minimized in the light of His glory and grace. The Walking With Jesus daily devotional, new from David Jeremiah, is a beautiful, leather-bound collection of excellent biblical truths for every day of the year, plus Scripture to encourage you in your walk in 2024.