Turning Point
with Dr. David Jeremiah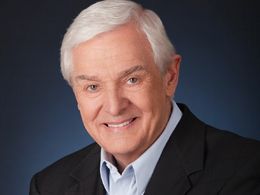 The Joy of Integrity, Part 2
Friday, July 12, 2019
When you demonstrate integrity through the everyday troubles of life, you're actually building the courage it takes to face far greater things. Dr. David Jeremiah returns to Philippians for three examples of courage that are produced by living a life that's consistent with your faith. 
Recent Broadcasts
Featured Offer from Turning Point

Count It All Joy
You don't have to wait for joy to find you.Here's the secret of joy-filled people: They don't wait for anyone or anything to bring them joy. They immerse themselves in the joy of relationship with Jesus Christ—right now! In this rich exploration of Philippians—which mentions "joy" five times­ and "rejoice" eleven times—you will: -Discover practical ways to live a joyful life-Learn how worship leads to delight-Find a sense of peace about even an uncertain future-Embrace forgiveness when others have wronged you-Enjoy community, unity, and harmony even in difficult situations! You can experience a joy that NEVER ENDS ... in the truths of Count It All Joy!