UNSHACKLED!
with Pacific Garden Mission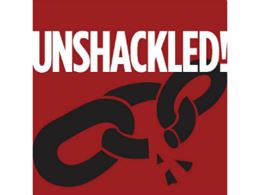 Program 3586 Barbara Cueto, Part 2
Sunday, October 6, 2019
3586 Barbara Cueto Part 2 (Addiction, Mafia Divorce) When Barbara ends up married to a Mafia leader, she is wrapped up in a dark world of greed and secrecy and void of true intimacy. The fear this instills in her follows her into her next relationship where she wrestles with whether or not to tell the FBI the truth about her ex-husband's misdeeds. When Barbara loses her dad after her third failed marriage, she hits a rock bottom of grief despair and addiction. But God sends her a promise of heaven and when she chooses to keep moving forward, she meets the true love of her life, Joe. A well-timed visit to a familiar sacred space leads her to accept Jesus as her Lord and Savior and begin a path towards healing and sobriety.
Recent Broadcasts
Featured Offer from UNSHACKLED!